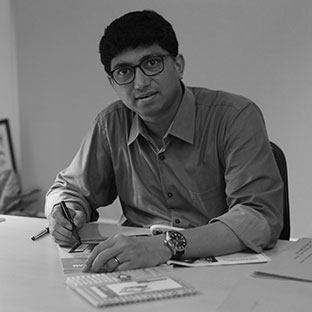 Ayan Sen
Ayan Sen is a graduate of School of Architecture, CEPT, India and has done his Masters in Urban Design from Massachusetts Institute of Technology, USA. He provides specialized expertise in the areas of master planning for waterfronts and campuses including residential and mixed-use projects and professionally been involved in several architectural projects in India that include resorts, institutions, commercial and health care and residential projects.
ASAUDP was started in India with the thought of providing collaborative, creative and International professional systems in the growing architectural environs of emerging India. The premise: 'Locally Sensitive Regional thinking can get integrated with the best of International Practices and Systems' has been the founding pillar of its young, vibrant team. The philosophies and design ideologies have tried to invoke the regional vernacular and its expression in the modern contemporary idiom and integrate the two in a holistic manner.
Ayan has principally articulated himself in two languages – one of a contemporized colonial design which is inspired by both India's colonial past and her current awareness of her place in the world. The second language explores contemporary tropical expressions in an amalgamation with the local context, be it Calcutta or any other Indian metropolis. His academic and professional research interest is in the understanding of developments through Public-Private Partnerships and interweaving of design and strategic process of development.
He is involved in various academics and studies in KRVIA (Mumbai), IIT Kharagpur and CEPT (Ahmedabad). ASAUDP is also involved in research with MIT, USA.